Roll over image to zoom in
Description
15-Inch 1200-Watt Square Subwoofer Driver, 2-Ohm or 4-Ohm DVC L7 Series Driver
The 15" L7 series automotive subwoofer by Kicker stands alone as the most unique subwoofer on the market, with a cone shape that is exclusively designed to produce more output.
The Kicker 41L7152 and 41L7154 subwoofer is winner of the 2015 CES® Innovation Award solidifying itself as the crown jewel among competition subwoofer enthusiasts. For more than a decade, Kicker's square woofer design has earned numerous awards including several CES accolades, and the 2015 version once again makes distinctive improvements on its way to another honor.
The 15-Inch L7 square subwoofer drivers deliver 20% more surface area than a comparable circular sub. A bigger cone disperses more air for each excursion thus creating more sound!
Oversized magnets and an aluminum voice coil allow maximum performance over long periods while remaining cool in operation. The Uniplate™ is a Kicker original, combining the pole piece and back plate as a single, seamless unit to pull damaging heat away from the sub. 
Kicker's patented Santoprene™ corners allow the Kicker 41L7152 and the 41L7154 subs to play smooth, distortion-free music at any volume level. Kicker's Blue Lace™ spider and ribbed surround work together to give you the best suspension. You get unparalleled accuracy and volume to feel every note - every time.
Specifications
| | |
| --- | --- |
| Rated Impedance [Ω] | 2 DVC |
| Fs [Hz] | 26.3 |
| Sensitivity [1W, 1m] | 88.6 |
| Qts | 0.539 |
| Qms | 11.868 |
| Qes | 0.565 |
| Re [Ω] | 7 |
| Vas [ft³, L] | 5.263, 149.048 |
| Recommended Amplifier Power (watts RMS) | 1200 |
| Outer Frame Dimension [in, cm] | 15 5/8, 39.6 |
| Mounting Depth [in, cm] | 9 3/8, 23.9 |
| Mounting Cutout [in, cm] | 13 3/4, 34.9 |
| Frequency Response [Hz] | 18 - 100 |
Recommended Enclosure Specifications
Panel Dimensions for Enclosures using 3/4" (1.9cm) thick MDF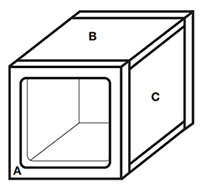 | | |
| --- | --- |
| Sealed Enclosure Specs | |
| Minimum Sealed Volume ft3 (L) | 1.75 (49.56) |
| Maximum Sealed Volume ft3 (L) | 6 (169.9) |
| Box Volume [ft³, L] | 1.75 (49.56) |
| Panel A [in, cm] | 16.5 x 16.5, 42 x 42 |
| Panel B [in, cm] | 16.5 x 13.5, 42 x 34.3 |
| Panel C [in, cm] | 15 x 13.5, 38.1 x 34.3 |
| Vented Compact Enclosure Specs | |
| Box Volume, ft³ (L) + port displacement | 3.0 (85) |
| Port Opening Size, in x in (cm x cm) | 2.5 x 16.25 (6.4 x 41) |
| Port Length, in (cm) | 19.5 (50) |
| Vented SQ Enclosure Specs | |
| Box Volume, ft³ (L) + port displacement | 6.0 (170) |
| Port Opening Size, in x in (cm x cm) | 3.5 x 16.25 (8.9 x 41) |
| Port Length, in (cm) | 13.75 (35) |