Roll over image to zoom in
Description
12-Inch 850-Watt Subwoofer Driver, 2-Ohm or 4-Ohm DVC
The CompQ 12" audiophile subwoofer by Kicker is the pinnacle of their round speaker line, with nearly identical construction and performance as their L7 square subs.
The Kicker 42CWQ122 and 42CWQ124 subs were designed for high power handling and reference competition bass reproduction, this KICKER sub features Ribbed Santoprene® surrounds and a BlueLace™ large-diameter progressive roll spider for extreme flexibility at any volume level.
The CompQ series 12-Inch subwoofer works best with a sealed or ported enclosure rated for 850W RMS.
Specifications
| | |
| --- | --- |
| Rated Impedance [Ω] | 2 or 4 DVC |
| Fs [Hz] | 37 |
| Sensitivity [1W, 1m] | 86.2 |
| Qts | 0.546 |
| Qms | 8.878 |
| Qes | 0.582 |
| Re [Ω] | 5.94 |
| Vas [ft³, L] | .91 ,26 |
| Recommended Amplifier Power (watts RMS) | 850 |
| Outer Frame Dimension [in, cm] | 12 1/2, 31.8 |
| Mounting Depth [in, cm] | 7 1/8, 18.1 |
| Mounting Cutout [in, cm] | 11 1/16, 28.1 |
| Frequency Response [Hz] | 20 – 100 |
Recommended Enclosure Specifications
Panel Dimensions for Enclosures using 3/4" (1.9cm) thick MDF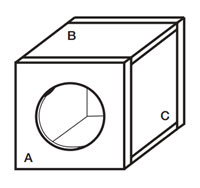 | | |
| --- | --- |
| Sealed Enclosure Specs | |
| Minimum Sealed Volume ft3 (L) | .88 (24.92) |
| Maximum Sealed Volume ft3 (L) | 2 (56.64) |
| Box Volume [ft³, L] | 88 (24.92) |
| Panel A [in, cm] | 13.5 x 13.5, 34.3 x 34.3 |
| Panel B [in, cm] | 13.5 x 10.5, 34.3 x 26.7 |
| Panel C [in, cm] | 12 x 10.5, 30.5 x 26.7 |
| Vented Minimum | |
| Box Volume, ft³ (L) + port displacement | 1.75, 49.6 |
| Port Opening Size, in x in (cm x cm) | 2.5 x 13.25, 6.4 x 34 |
| Port Length, in (cm) | 22.5, 57 |
| Vented Maximum | |
| Box Volume, ft³ (L) | 3.25, 92 |
| Port Opening, in x in (cm x cm) | 3 x 13.25, 7.6 x 34 |
| Port Length, in (cm) | 14.5, 37 |